In this blog, we're going to outline the various technological solutions that are used by businesses around the world to improve workplace health and wellbeing. We will also highlight the benefits of employee wellbeing technology.
In recent decades, technology has been entwined into every aspect of our life. From how we socialise with each other to how we do our grocery shopping; we rely on modern technology for almost everything.
Technology has also long played a role in workplace health and wellbeing, so much so that there are various technological solutions centred around employee wellbeing.
Flexible Working And Online Task Management
Flexible working and employee wellbeing go hand in hand. Working flexible hours enables employees to fit their workload around other commitments, such as their family. Businesses that have introduced a flexible work approach have seen an improvement in employee engagement and workplace morale.
A 2017 YouGov study also found that the vast majority (89%) of British employees believe they would be more productive if they had flexible working hours. Plus, 60% of those employees wanted a range of flexible working options.
It goes without saying that flexible working can greatly improve employee wellbeing. However, you may be wondering how this relates to employee wellbeing technology.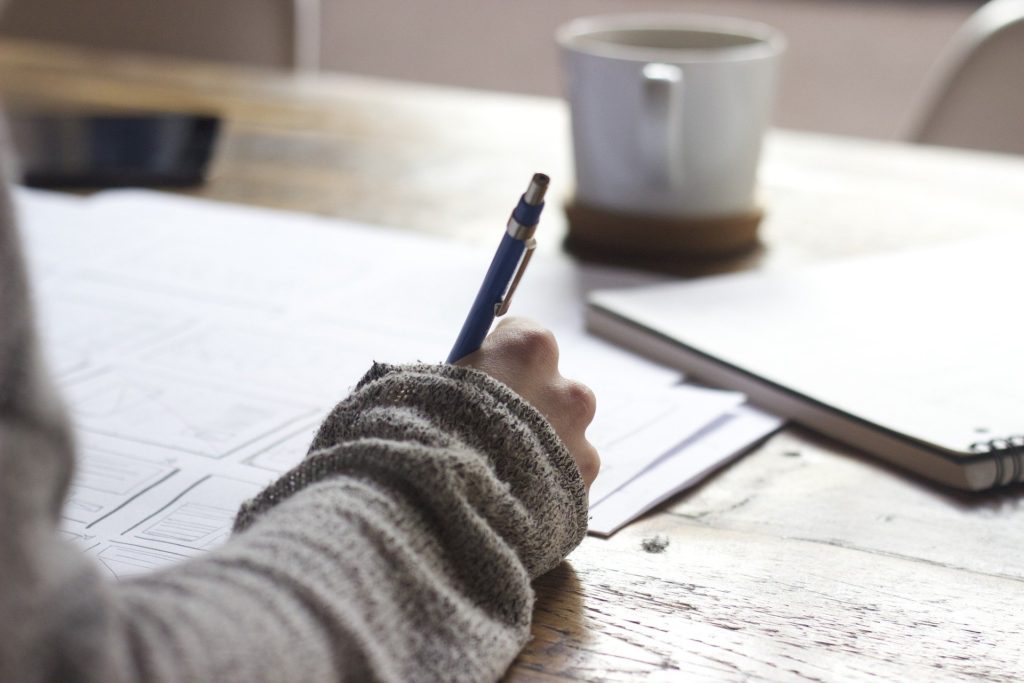 Well, without technological solutions, it would be much harder for employees to work flexibly or remotely. Technology gives many of us the opportunity to work wherever and whenever we choose. Your employees will be able to work when they feel most productive, whilst achieving a work-life balance.
The use of online task management systems, such as Asana, enables employees to keep track of their workload.
Whilst other popular technology solutions such as video conferencing (Skype, Google Hangouts etc.) and instant messaging services (WhatsApp etc.) enable employers to communicate effectively with their team.
Regardless of when or where your employees are working, you can be sure that your employees are engaged and on track.
Employee Wellbeing And Mobile Applications
What did we ever do before mobile apps came along? How did we listen to music or find a new job or send cat memes to our friends?! OK, so we had CD players and job centres and of course, cat memes didn't exist. But you get the gist, mobile apps have made our life tons better. And now, you can improve workplace wellbeing with a mobile app.
Mobile apps are simple to use, always to hand and can be used by anyone who has a smartphone. So, it's not surprising that mobile apps are one of the most popular types of employee wellbeing technology.
The Wellspace App
Here at Wellspace, our app enables employees to track their health and wellbeing. Its main features include:
Sleep Tracker: Allows the user to record sleep length and quality and encourages them to make small changes to improve their sleeping pattern.
Activity Tracker: Allows the user to track their physical activity on a daily basis, including calories burned, distance travelled, steps taken, and floors covered.
Mood Tracker: Allows the user to record their mood and highlight any triggers that may have provoked that particular feeling or mood. Employees will then be able to identify specific stressors, mood boosters or patterns.
Leadership Board: Friendly competition makes everything more fun! And the leadership board will allow you to reward perseverance and engagement.
Employees will also be able to access a wide range of practical advice and tips on everything from getting more sleep to dealing with anxiety.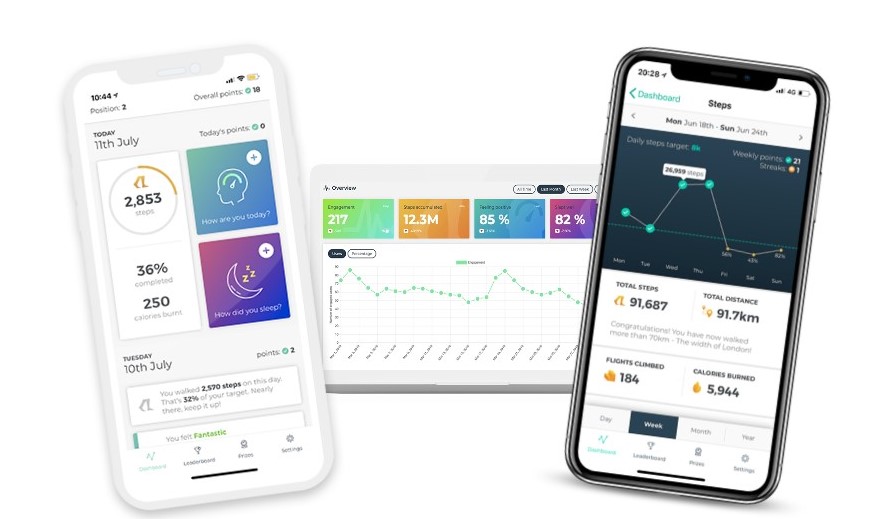 The Wellspace platform also includes an online portal, which gathers data based on your employees' sleep, mental wellbeing and physical health.
This gives you an indication of which employees could use help with their health and wellbeing. You can then tailor activities, training sessions and initiatives based on the data gathered. We also offer a variety of wellbeing training sessions, including group sessions and 1-1 training.
As far as employee wellbeing technology goes, our approach has plenty of proven benefits – including a long-term ROI. Plus, it can be tailored to your business.
With our approach, you should see an improvement in employee productivity, engagement and motivation. You should also see a reduction in costs related to health and presenteeism. A healthy workforce is a happy workforce.
Employee Wellbeing And Wearable Devices
The number of people using wearable devices, to track their health and wellbeing has increased significantly in recent years. Fitbits and Apple Watches are among the most popular wearable devices.
According to Statista, there are currently around 6.8 million people using wearable devices in the UK – a number that's expected to rise to 7.1 million by 2024.
So, it's not surprising that some businesses are offering wearable devices to their employees in an effort to improve their health and wellbeing. Wearable devices are great for encouraging employees to exercise more and monitor their physical and mental health.
Want To Know More About Employee Wellbeing Technology?
Here at Wellspace, we are experts in workplace wellness, and we believe that employee wellbeing technology can transform your business.
We are on a mission to revolutionise wellbeing in the workplace with our mobile app, integrated online portal and bespoke training workshops. If you would like to find out more about our more, get in touch today.