The Wellspace application works with employers and employees to help make beneficial changes toward their well-being including physical wellbeing. Physical activity can be difficult to keep on top of when sitting at a desk 9-5. That's why, we have put together a simple guide of some easy office and desk stretches to do throughout the day, whether you work from home or in an office. Stretching often helps relieve pressure from being sat at a desk and also alleviates tension in your back and improves posture.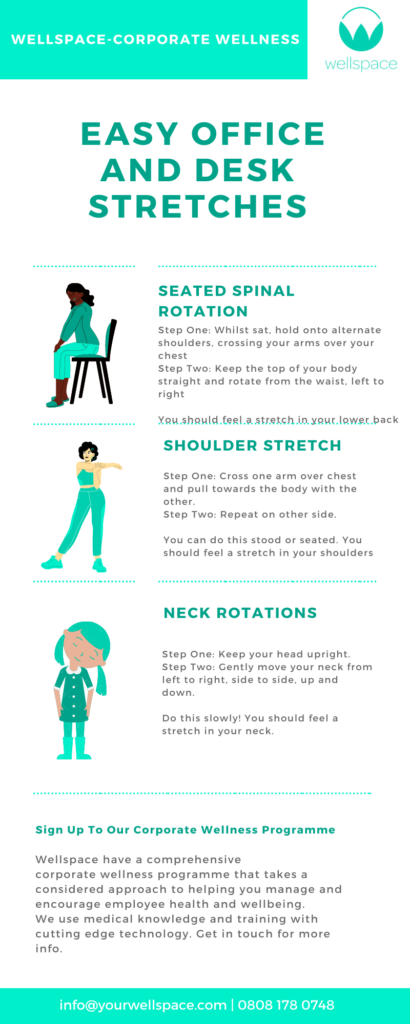 Seated Spinal Rotation
Step One: Whilst sitting, hold onto alternate shoulders, crossing your arms over your chest
Step Two: Keep the top of your body straight and rotate from the waist, left to right
You should feel a stretch in your lower back
Shoulder Stretch
Step One: Cross one arm over chest and pull towards the body with the other.
Step Two: Repeat on other side.
You can do this standing or seated. You should feel a stretch in your shoulders
Neck Rotations
Step One: Keep your head upright.
Step Two: Gently move your neck from left to right, side to side, up and down.
Do this slowly! You should feel a stretch in your neck.
Sign Up To Our Corporate Wellness Programme
Wellspace have a comprehensive corporate wellness programme that takes a considered approach to help you manage and encourage employee health and wellbeing. 
We use medical knowledge and training with cutting edge technology. Get in touch for more info. 
info@yourwellspace.com | 0808 178 0748