Nutritious snacks at work help us stay energised and increase productivity throughout the day. When we are sitting behind a desk, it can be difficult to stay healthy at work and curb our cravings. Our nutritionists at Wellspace are on hand to offer your workforce healthy snack alternatives to keep your productivity and healthy at work.
What you eat at work will have a direct impact on your performance. Improve your concentration, creativity, memory and mood with tasty and healthy office snacks you'll love.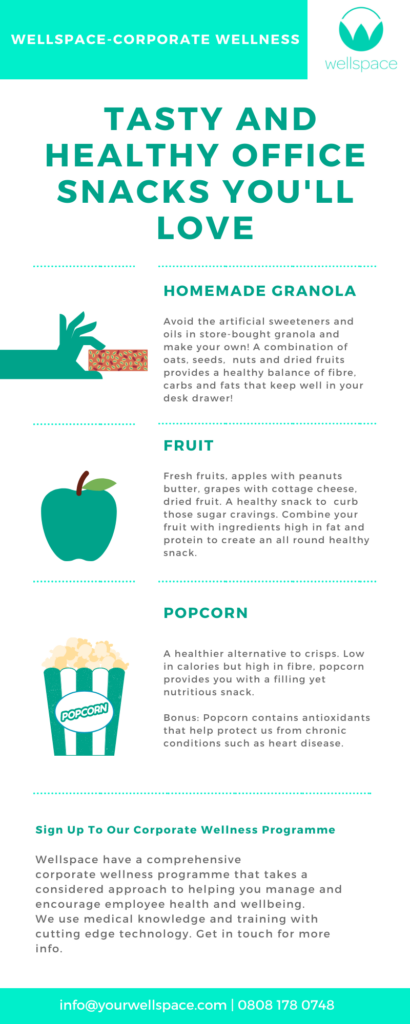 Homemade Granola
Avoid the artificial sweeteners and oils in store-bought granola and make your own! A combination of oats, seeds, nuts and dried fruits provides a healthy balance of fibre, carbs and fats that keep well in your desk drawer!
Fruit
Fresh fruits, apples with peanut butter, grapes with cottage cheese, dried fruit. A healthy snack to curb those sugar cravings. Combine your fruit with ingredients high in fat and protein to create an all-around healthy snack.
Popcorn
A healthier alternative to crisps. Low in calories but high in fibre, popcorn provides you with a filling yet nutritious snack.
Bonus: Popcorn contains antioxidants that help protect us from chronic conditions such as heart disease.
Sign Up To Our Corporate Wellness Programme
Wellspace has a comprehensive corporate wellness programme that takes a considered approach to help you manage and encourage employee health and wellbeing. 
We use medical knowledge and training with cutting edge technology. 
Our team includes industry experts such as nutritionists and fitness coaches to help our clients promote healthy lifestyle choices in the workplace. We'd love to hear from you with your health and wellbeing queries!
Get In Touch
Want to offer your workforce the tools to monitor their physical and mental wellbeing? Let us know! Head over to our website and book your free demo on the Wellspace application.