Tomorrow is an exciting day for Wellspace as we officially open our doors, launch our wellness app, and throw a fabulous party to celebrate the occasion! After almost a year in planning, research and development, our health app is now available to businesses who are serious about looking after the wellbeing of their employees.
We started our journey with big ambitions; to help businesses reduce absenteeism, increase movement, and improve mental and physical health, no easy task we're sure everyone will agree! But, we managed to accomplish what we set out to do and here we are one day before our launch event, with a product that is set to revolutionise employee wellbeing.
It's an exciting time for us, the health community, and the people who have helped us out along the way – why not join us and find out how our fitness app can help your business and your employees?

What is Wellspace?
What we offer is simple; a proactive corporate wellness programme, designed to help your employees manage their health and access support.
It works through a cleverly designed smartphone app and an online portal where employees can access usable health trends and insights in addition to collecting points and rewards for engagement with the system.
Not only an 'online' solution, we then offer face to face behaviour change training, workshops and events over the course of your businesses subscription.
So, as opposed to a fitness app or device, that will only give your employees data about their health, Wellspace is a comprehensive health management solution.
What Are The Benefits?
Our solution offers a multitude of benefits for you, your business, and your employees!
You will gain clearer visibility over your team's overall wellness and be able to access real-time reports.
Your employees will enjoy improved mental and physical health and decreased health care costs.
Having a happy and healthy workforce makes good business sense! A wellness app like ours could help you reduce absenteeism, increase productivity, and improve company culture.
As you can see, our solution is able to deliver clear-cut, measurable results – enabling you to not only manage employee health but also to see a return on your investment.
How Does Our Wellness App and Solution Work?
Now that you know what Wellspace is, you might be wondering if it's complicated or how our clever technology works?
It's really quite simple; your employees download our app and use it to track their health statistics and wellbeing.
The app sets a baseline target which is unique to each user, measuring daily activity, including, steps taken, distance covered, floors climbed and calories burnt. Wellspace also measures sleep analysis and personal mental wellbeing through simple and quick daily questions. All of this data is recorded securely and anonymously and presented at an aggregate level via a web portal. This means that you can see the physical and mental health of your employees, in real-time. The portal presents the health trends clearly over time, meaning both you and your employees are taking a proactive approach to health in the workplace.
The app encourages engagement, such as filling in daily questionnaires and rewards users for doing so by the way of vouchers and discounts from well-known retailers.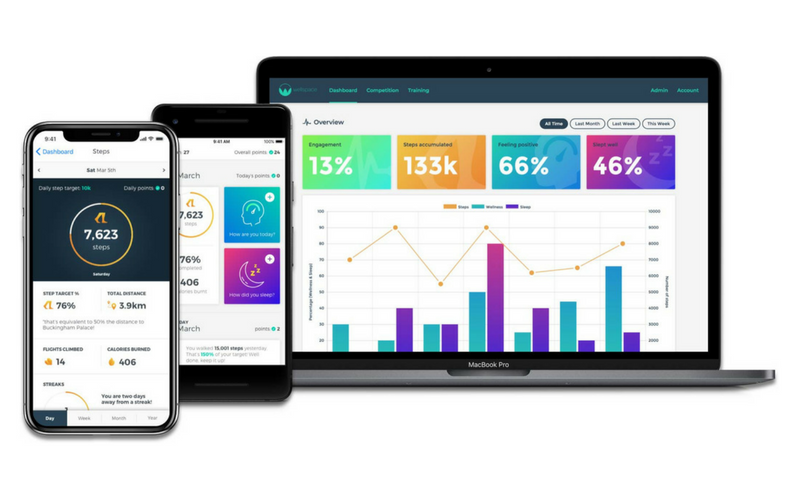 That's the technology part covered but what happens next? This is where our solution becomes beneficial to health. Depending on the statistics and information gathered from your employees, we are able to offer tailored wellbeing workshops, training sessions and events to ensure staff engagement is high, wellbeing knowledge is shared and support is always available.
This combination of clever tech and real-life training and support makes our solution one of the most comprehensive wellness solutions on the market.
Employees will find our app easy to use and want to interact with it, thanks to our simple interfaces and fast methods of data collection.
Privacy is not an issue; data is securely transferred to our portal and is completely anonymous. You will never be able to view an individual, and employees won't be able to access other colleagues' data.
Wellspace Launch Party
If our app sounds like something your team could benefit from, then why not come along to our launch party?
Meet the team and find out more about how our app works, plus, see the app for yourself and how easy it is to use. All guests will be treated to canapes and drinks, plus a Wellspace gift bag full of treats for you and your friends.
We'll be congregating from 6pm onwards, Thursday, July 12th, at Bernardi's Italian restaurant & bar in Marylebone.
To RSVP simply pop an email along to jake@wellspace.com and don't forget you can follow us on Twitter or Facebook for updates and photos.
If you can't make our launch party and want more information don't worry! Get in touch via our contact page.