Here at Wellspace, we create a bespoke health and wellness solution for countless businesses in a range of industries.
Brought to you by a dedicated team of Wellness Coaches, Medical Practitioners, Behaviour Experts and Tech Designers, the Wellspace Wellness Solution offers a tried and tested way to improve the health and wellbeing of your team.
By combining medical and psychological knowledge with state of the art technology, the team at Wellspace have created a solution that offers uncompromised benefits for businesses of all sizes. Our goal is to revolutionise workplace wellness, which is why we currently have the world's leading application for workplace health and wellbeing.
Benefits Of the Wellspace Wellness Solution
Investing in the health and wellbeing of your employees with Wellspace will lead to:
Increase in employee productivity and engagement
Fewer health-related absences
Reduced costs in relation to health i.e. sick pay
A happier workforce and boosted staff morale
Better work-life balance and higher job satisfaction
Higher chance of retaining your most valuable employees
Higher chance of recruiting the best candidates
Improved customer and client satisfaction
A Complete Wellness Solution
The Wellspace wellness solution generally consists of the Workplace Wellbeing Application for employees, the Online Portal for employers and health and wellbeing training. However, the wellness solution can be customised to suit your business.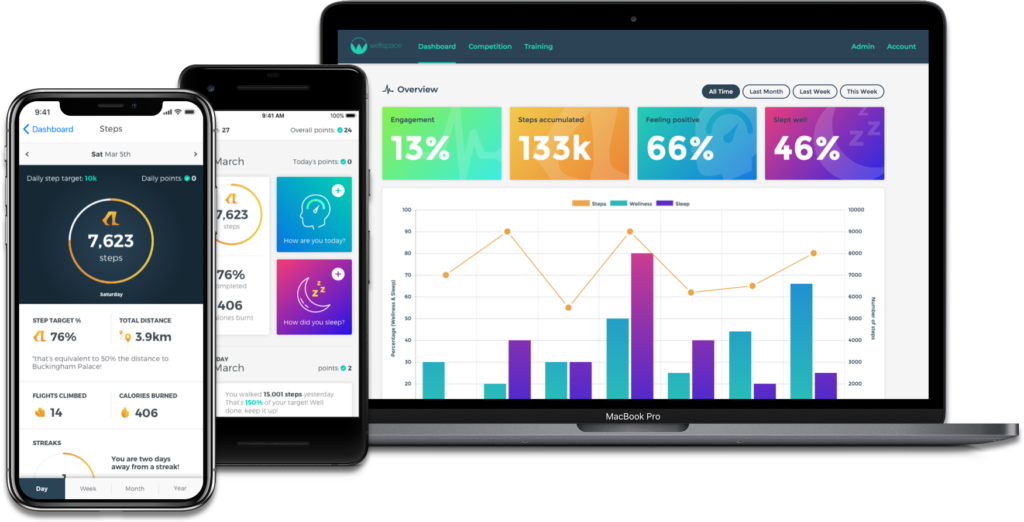 Between the application and the portal, you will receive clear-cut, measurable results, which will assist you when managing employee health and will demonstrate your return on investment.
The Workplace Wellbeing Application
Our workplace wellbeing app enables your employees to prioritise their health and wellbeing. The app features a Hub, which can be regularly updated and managed using the portal. Generally, the hub contains a variety of features including Mental Health, Exercise, Nutrition, Recipes, Sleep and Financial Wellbeing.
Aside from the Hub, the workplace wellbeing app features a selection of key tools to help your employees improve their physical and mental health and wellbeing. These include a Mental Health Tracker, Sleep Tracker, Exercise Tracker and Leaderboard.
So, your team can track their progress and work towards a personal health and wellbeing goal. The Wellspace app aims to reward engagement and perseverance rather than ability. It also provides a wealth of health and wellbeing knowledge, tips, and advice for your team.
The Portal
The Wellspace Portal provides a world of employee insights at your fingertips. It gathers data from your employees' wellbeing apps and enables you to clearly see which of your team are taking part in the health and training schemes. It allows you to increase engagement by tailoring activities to suit the needs of your employees and provides the opportunity to reward those who are engaging with the app. The Wellspace online portal also shows you the areas of health and wellbeing in which your team need additional support.
Better yet, the portal demonstrates the positive impact the app is having on your team. For example, it may determine that the vast majority of your employees have reported less stress over 3 months.
The Training
Thanks to our seasoned team of health and wellbeing experts, Wellspace offers wellness training for your team. Depending on the needs of your employees, you can choose from a variety of training sessions including Behaviour Change Training, Focus Training, Lunch Bites and Individual Wellness Coaching.
Behaviour Change workshops give your employees the tools and knowledge they need to make positive decisions about their health and wellbeing. It encourages your team to recognise how their current behaviour patterns are impacting their health, whilst teaching them to make sustainable changes. Behaviour Change Workshops are suitable for groups of up to 40 employees!
Ideal for small groups of employees, the Focus Training sessions concentrates on a specific area of health and wellbeing that your employees may be struggling with. For example, this may be sleep or stress management. Using the app data on your online portal, you may gain an insight into which employees could benefit from this training.
Lunch Bites are short but effective training sessions, which are usually carried out over lunch to maximise efficiency and give all employees the chance to attend. Engaging your employees, these short sessions aim to break down the barriers that are preventing your team from improving their health and wellbeing. The topics are always useful and practical and can range from self-confidence to practising yoga for healthy ageing.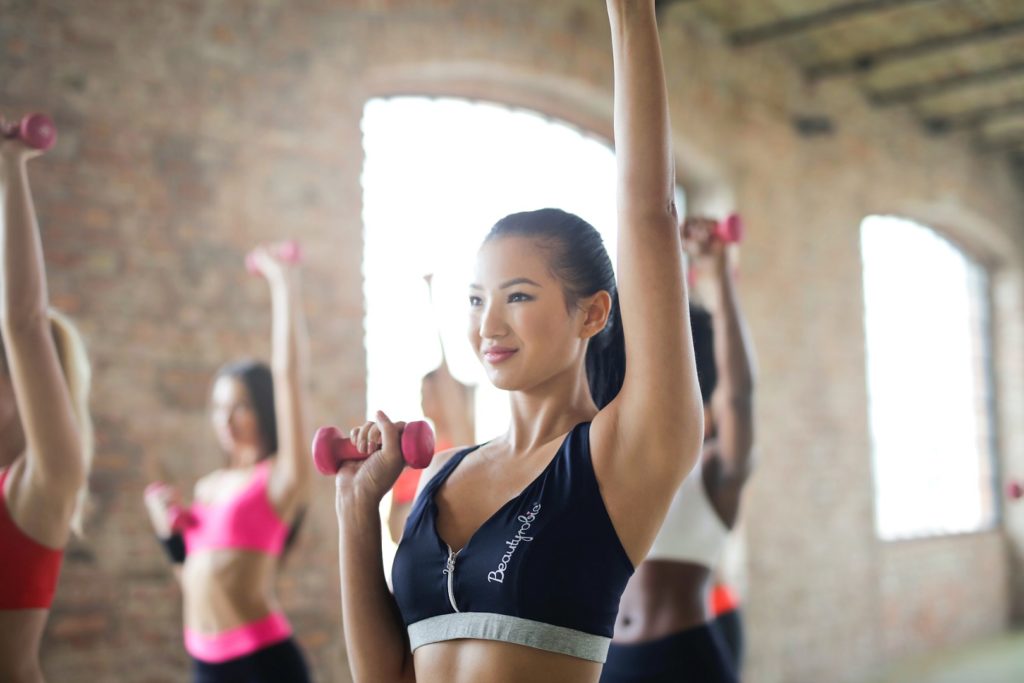 Individual Wellness Coaching is for those employees who require a little extra help to improve their health and wellbeing. These one to one coaching sessions are specifically tailored to the employee's goals, barriers, and perceptions.
Tailormade Wellness Solution
At Wellspace, we understand that every business is unique, which is why we offer bespoke wellness solutions to our clients. These tailormade wellness solutions are aligned to the strategy and vision of your business to ensure you are getting the very most out of your investment.
For example, we recently partnered with Fujitsu, a global IT services company that wanted to support the mental and physical wellbeing of their 30,000 employees. Fujitsu was in line to sponsor the 2020 Tokyo Olympics (now postponed to 2021 due to COVID-19), so, we developed and launched an Olympic Challenge for the Fujitsu employees. The challenge encourages all Fujitsu employees to take on health and wellbeing tasks to achieve 5 Olympic Rings.
Get In Touch
If you would like more information on our Wellness Solutions, get in touch with Wellspace.