Choosing The Right Lunch At Work (Positive Nutrition)
The summer holiday season has finished and if, like us, you may have overindulged with the food and drink and are looking to start a healthy eating plan.
But then you get to work and it's busy and you're stressed so you get that sandwich meal deal with crisps and a coke.
So, this week we are going to give you some tips on choosing the right lunch at work.
Breakfast First!
Eating regularly throughout the day (regularly, not constantly…) is the best way to ensure that you get a balanced intake of ingredients.
So, before we talk about lunches, we will give you a quick reminder that is a good idea to start the day with breakfast!
Porridge and muesli are good healthy options and there is a wide variety to choose from these days.
Winter Time Saving Lunch Options
Now that we have reached autumn and it's getting colder; we start to crave warm winter food like stews and soups and chillies.
This is the ideal time to make bulk amounts of food and freeze them in several Tupperware or lunchboxes in the freezer.
Vegetarian chilli is a great example of this, you can cook a huge pot of it, it's perfect, filling, winter food and you can add as many vegetables as you like!
The BBC good food site has a delicious page of vegetarian chilli recipes.
In fact, while we think about it, the BBC good food site is one of the best resources available for all recipes!
Chilli's, stews and soups are particularly good because you can use lots of vegetables and grains.
This way, if you spend a few hours on a Sunday cooking lunch for the week you don't have the excuse of not having enough time and ending up buying something at work later.
Salt!
Those tempting supermarket sandwiches taste great right?
They sure do, but supermarket sandwiches are notoriously high in salt and too much salt is bad for your health.
If possible, steer clear of these sandwiches or at the very least only have them as a treat.
Carbs, Protein And Unsaturated Fat
For a really healthy lunch, you need three main parts, complex carbohydrates, lean protein, and healthy unsaturated fat.
Unlike what we were told in the olden days, just having 'a salad' isn't healthy. You will still be hungry and not get all the nutrients needed.
Complex carbohydrates include pasta, breads, potatoes, rice, beans, quinoa.
Examples of lean proteins would be fish, chicken (without the skin), tofu, nuts, eggs and seeds.
Healthy unsaturated fat food would be fish like salmon or mackerel, avocado, nuts, peanuts, peanut butter, olive and vegetable oils.
A balanced combination of these is the best way of providing fuel to your body during the course of the day.
It's like keeping a car topped up with petrol, oil and water.
As opposed to having lunch that is high in salt and sugar, which is the equivalent of filling up with petrol but ignoring the level of oil and water.
The other ingredient needed for a healthy lunch is something that is high in fibre.
For example, kale, carrots, broccoli, corn, some fruits like berries and whole-grain foods.
With that plethora of possible ingredients, you may feel spoilt for choice but don't know where to start?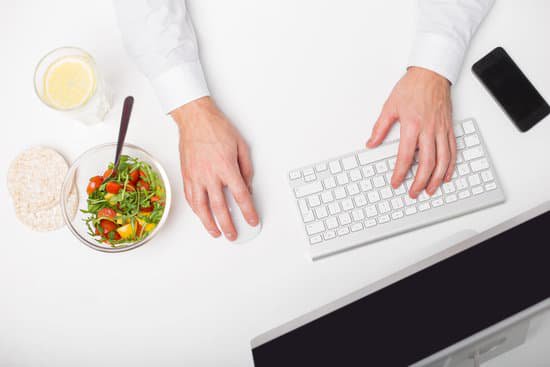 Ideas For Healthy Lunches
If you concentrate on using high fibre vegetables and complex carbs, then you have a healthy lunch, it is that simple!
Lean proteins will provide you with more energy so add those if you feel it helps and more importantly if it tastes good!
For example, start with some salad leaves, spinach is great and tasty, add some peppers, grated carrot looks zingy and has a satisfying crunch. That's your high fibre sorted.
Add in some cooked pasta, or rice or some mixed beans, that's your complex carbs.
Finally throw in some cooked chicken or fish, or tofu. Tofu can take on so many flavours it's definitely worth trying a few different recipes like the tofu suggestions by Good Housekeeping.
If you are going to add a salad dressing (the unsaturated fats like vegetable or olive oil) one good tip we saw recently was in this kiwi and feta salad recipe by Nadiya Hussain.
Nadya creates the salad dressing first, in a bowl, so that every ingredient can be covered in the dressing.
Instead of what normally happens where the dressing is poured on at the end and only really covers the top of the salad.
You don't have to get fixated on salad either. Swap the pasta for wholemeal bread add in some tomatoes and you have a healthy sandwich, much more healthy and tastier than the supermarket ones.
By using different combinations, it makes it simple to make healthy lunches and a variety of different types so you don't get bored and tempted to go to Burger King.
Contact Us
Here at Wellspace we provide wellbeing training and we can offer the training in short lunchtime bites here.
So, you can enjoy wellbeing tips with your healthy lunch!
If you would like some more info on choosing the right lunch at work then please do call us on 0800 178 0748, email us on info@yourwellspace.com or use our online contact form here.